Why not pop in for a coffee?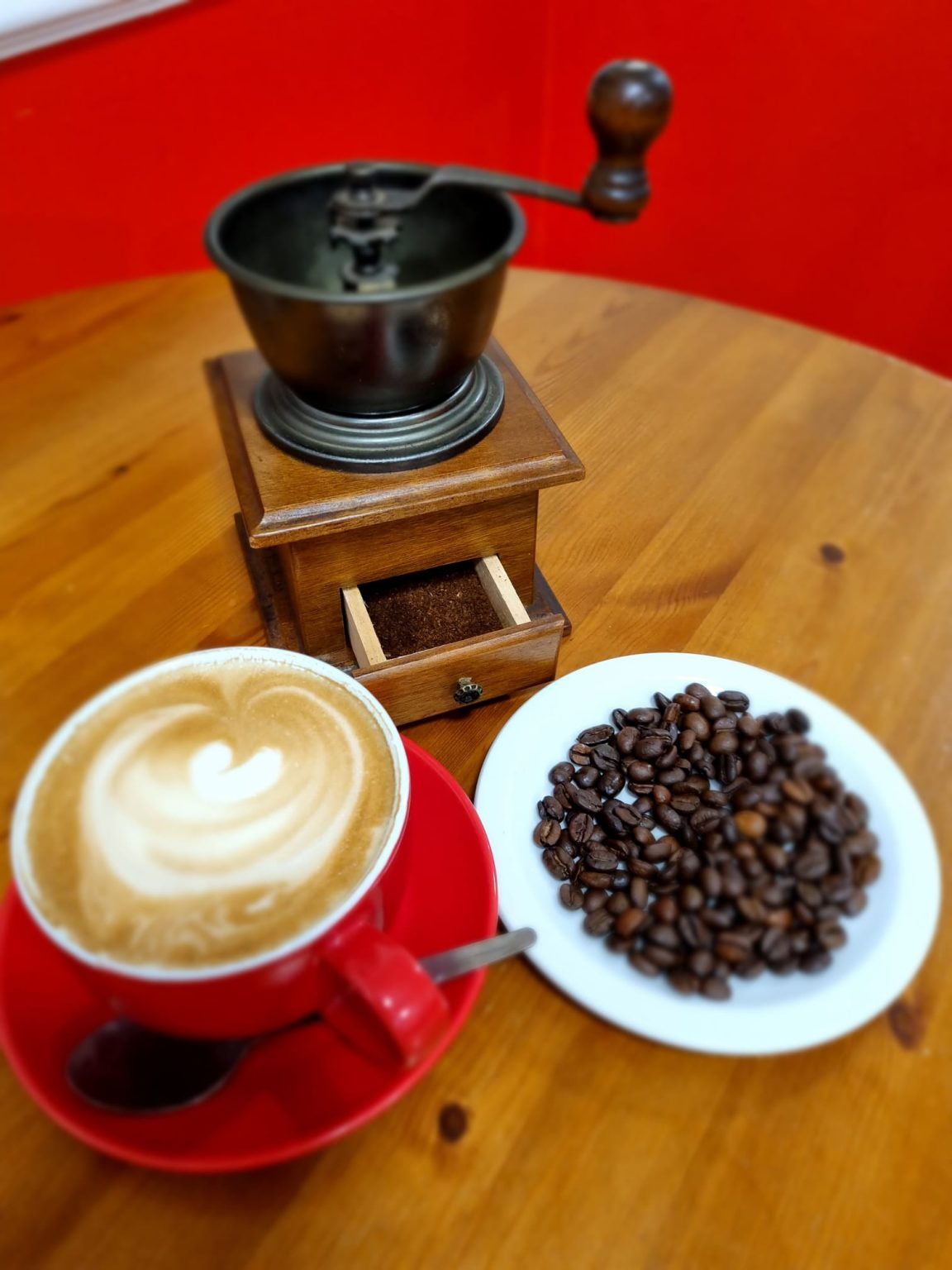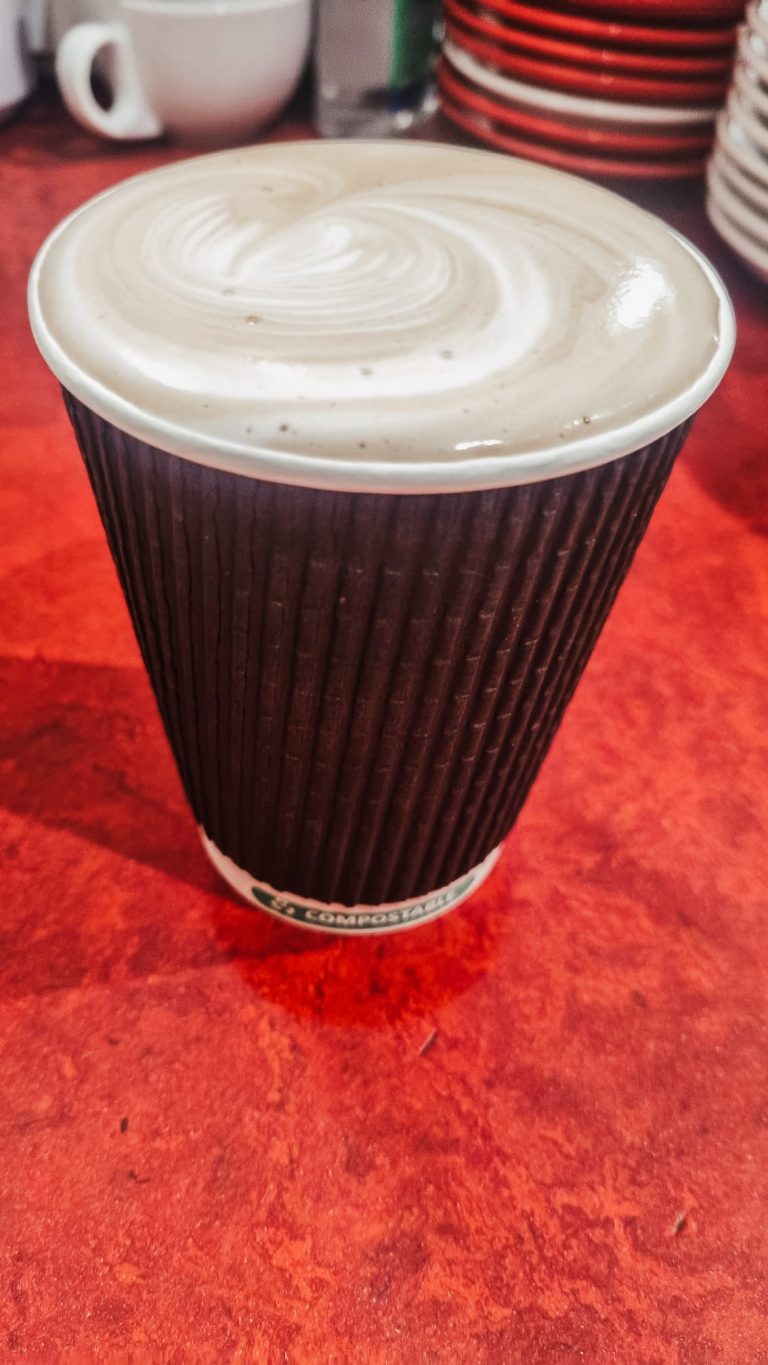 Click here to download our full drinks menu to browse at your leisure (PDF)
Filter Coffee – £2.00
Decaffeinated Filter Coffee – £2.00
Special Milky Coffee – £2.30
---
Espresso (the little one – short, black and strong!)
Single Shot – £2.00
Double Shot – £3.00
---
Mochaccino (cappuccino with a good shot of rich chocolate – delicious!)
Large Only – £3.00
---
Americano (double espresso – long drawn)
Large Only – £2.30
---
Cappuccino (espresso with high frothed milk top and a sprinkling of chocolate)
Regular – £2.30
Large – £2.60
---
Latte (espresso made with creamy foamed milk)
Regular – £2.30
Large – £2.60
---
Flavoured Latte (espresso made with creamy foamed milk, plus shots of the flavour combinations below)
Large only – £3.00
Coconut Cream – Coconut and Vanilla
Sugar Daddy – Caramel and Hazelnut
---
Add a Flavour! Any of these flavours can be added to any of the hot drinks to create designer beverages on a whim.
Per Shot – 30p
Amaretto
Cinnamon
Hazelnut
Coconut
Vanilla
Toasted Marshmallow
Butterscotch
Gingerbread
Caramel
Raspberry
Mint Chocolate
Did you know? For just 30p extra, all our coffees are available as Decaf!
---
Cafetiere Selection (served in a cafetiere for one – all fair trade)
£2.80
Caffe Mocha – Mild, round and smooth
Caffe Continental – A stronger coffee with a smokey character
Caffe Java – A strong, punchy coffee
Caffe Decaffeinated – All the flavour, none of the caffeine
---
Hot Chocolate Selection (we use Torani Liquid Chocolate)
Standard Hot Chocolate (chocolate with hot and creamy milk) – £2.70
White Hot Chocolate (white chocolate liquid topped with hot milk) – £2.70
Stop Chocolate (as standard hot chocolate with extra topping of whipped cream and marshmallows) – £3.10
Luxury Hot Chocolate (as stop chocolate, with a flake on the side) – £3.30
Paradise Chocolate (hot chocolate with coconut syrup, for that desert island, away from it all experience) – £3.00
Mint Chocolate (enjoy the classic combination of mint and chocolate, folded into creamy hot milk) – £3.00
Belgium Chocolate (a shot of hazelnut adds a touch of opulence to that chocolatey taste) – £3.00
Chocolate Orange (hot chocolate flavoured with orange syrup topped with whipped cream and a slice of chocolate orange on the side) – £3.30
---
Tea Selection
Mug – £1.40
Pot for One – £1.80
Pot for Two – £2.90
Yorkshire
Camomile
Green Tea
Earl Grey
Assam
Darjeeling
Lady Grey
Lapsang
Fruit Teas
Peppermint
Lemon and Ginger
Chai
---
Iced Drinks
Frappe Latte – £3.00
Made with espresso coffee mixed with milk, ice and our own special ingredient. Creating a refreshing yet not overly sweet drink, with the usual kick of coffee behind it.
Iced Mocha – £3.00
Our espresso coffee blended with chocolate, milk and ice to create a smooth drink, balancing the sweetness of chocolate with the bite of coffee.
Iced Americano – £2.60
A simple mix of espresso coffee, milk and ice. An acquired taste.
Iced Chocolate – £2.70
Our delicious liquid chocolate mixed with milk and ice. Simply fantastic.
---
Cold Drinks
Fruit Juices (served with ice)
Apple or Orange or Grapefruit – £2.20
Pineapple – £2.40
Cranberry – £2.50
---
Fruit Juice Cocktails
Sea Breeze (cranberry and grapefruit juice over ice) – £2.40
Citrus Punch (orange and grapefruit juice blended with a dash of lemon juice over ice) – £2.40
Sunrise (cranberry topped with orange juice over ice) – £2.40
Apple Spice (apple juice with cinnamon syrup) – £2.50
Bitter Sweet (raspberry, cranberry and pineapple juice) – £2.70
---
Fresh Fruit Smoothies (made to order)
All £2.80
Berry Burst (blueberry, blackberry, blackcurrant and banana)
Strawberry Delight (strawberry, peach and papaya)
Raspberry Heaven (strawberry, blueberry, mango and apple)
Pourer Granate (pomegranate, strawberry, blackcurrant and apple)
Coconut Crush (pineapple and coconut milk)
Snowberry (yoghurt, strawberry, cherry, blueberry and raspberry)
---
Bottled Water
Still or Sparkling – £1.70
---
Soft Drinks – served over ice
Lemonade, Orangeade, Coke or Diet Coke – £1.70
Glass bottle of coke (original) – £1.90
Squash – Regular 50p or Large 70p
---
Milkshakes (fresh and cold) 
Regular £2.00 or Large £2.40
Thick Shakes (Banana, Chocolate or Strawberry)
Shakes Made With Syrup (Please ask our team)
---
Milk
Regular 50p or Large 70p